Yes, you have landed onto the right page, explaining making  Soap Noodles from Palm Oil one of the main component for making soap bars.  Are you interested in making soap from soap noodles ?
The Soap Industry has explored several ways to make soaps from different ingredients. Of all these ingredients, oil is highly relevant and carries great importance because it provides a soft and slippery touch in soaps. Hence, the use of oils in soaps is increasing, and people try different methods to make uniquely blend soaps by using various oils.
So, do you want to know more about soap noodles? Click here…
Advantages of Palm Oil Base Soap Noodles to make Soap 
Palm Oil Base Soap Noodles use Palm Oil as a base for making soap noodles. Palm Oil is a natural substance, and it provides several benefits to your skin. Here is a list of some of the advantages of palm oil soap noodles:
It is used in the manufacturing of white soap.

You can use palm oil soap noodles as a detergent.

Palm oil soap noodles are environment-friendly because it is biologically degradable.

It allows you to manufacture conveniently

You can use it to get soft skin because it is highly natural

The composition of palm oil soap noodles is natural, so it is a renewable source.
How to Make Soap Noodles from Palm Oil?
To make soap noodles from palm oil, you need to process animal fats and oil. For this purpose, you can use three methods:
Hot Process Method
Cold Process Method
Before we start our guide of how to make soap noodles, let's take a look at some tips you may need while you make soap noodles. Here are the tips:
The liquid quantities in this article are only for guide purposes. These may not be the exact measurements. So, make sure that you use the exact quantity of every material used while following this guide for making soap.
You can only use simple and plain moulds for making soap noodles.
Make sure that you press the mould airtight and do not allow the air to come in.
You should follow the process quickly to avoid hardening of liquid material.
Now that we have discussed the tips let's take a look at how to make soap noodles…
Hot Process Method
You need soap ingredients, including palm oil (C16-C18) and Fatty Acids (for Alkaline). You also need a boiler to make sure that you get the desired melting point. For this purpose, the soap noodle manufacturers use industrial boilers which are highly secure and help the mixture to attain a specific meting point which is required for making soap noodles.
Now, mix palm oil and fatty acids and boil them to make saponification. Saponification is the process in which the added soap ingredients mix through chemical composition. After boiling, you will get glycerin as a byproduct of saponification.
After this step, you need to convert the mixture into small soap noodles. You can do this either by using a standard noodle-mould or also by getting big soap bars and later cutting them into small pieces for later use.
So, are you wondering about the use of hot, processed soap noodles? Here is your answer…
Soap noodles are largely used as industrial raw material for making soaps. Soap noodles have a separate industry that is specialized in making them. However, several small units have also joined this industry, and now they produce different types of soap noodles, including translucent laundry soap noodles and snow white soap noodles.
Cold Process Method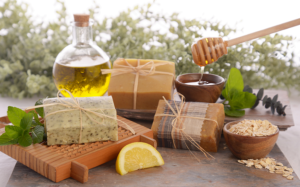 The cold process method of making soap noodles from palm oil also uses the same ingredient. However, the processing of these ingredients is different in this method. In this process, you only need to hat palm oil up to the melting point. Once the melting point is achieved, you need to mix the oil with alkaline or fatty acids.
Cold processes soap noodles preserve glycerin. So, they do not need chemical substances for further preservation. These soap noodles are also shaped with cutters and moulds once they are cooled for almost 5 weeks.
Want to know more about the uses of cold processed soap noodles? See details below…
Cold processed soap noodles are excessively used for handcrafted soaps. The handmade soaps are used for several purposes, including skin care. Other than this, the use of laundry soap noodles and white soap noodles is highly regarded in laundry businesses.
The production of soap noodles has become popular in recent years because the soap manufacturing companies need ready-to-use materials which can be moulded in different shapes. It has become easier for soap manufacturing companies to add specific and branded fragrances to make soaps by using soap noodles. An increasing trend in this regard has been observed in Malaysia, China and India, which are manufacturing soap noodles. The huge consumption of soaps demands such steps which make it easy for manufacturing industries to make soaps from raw materials rather than from scratch. However, the manufacturing of soap noodles needs extensive care with proper processes being followed to ensure quality.
So, which oil would you like to use for making soap noodles? Let us know in the comments section below…
Looking for Soap Noodles? Submit this form, we will reach you soonest possible.